Birch

ply

™ - Deck 350 Formwork Shuttering Plywood


An ultimate in performance and durability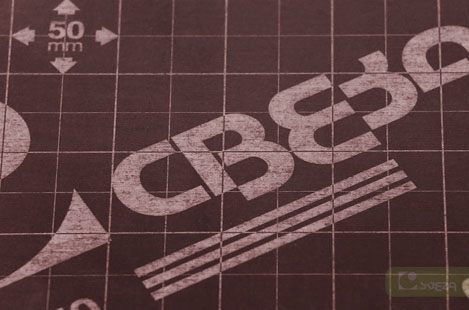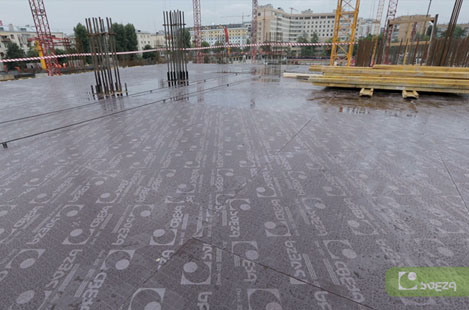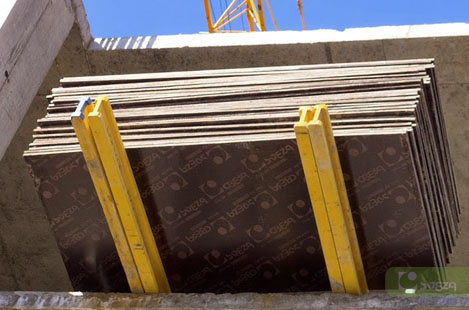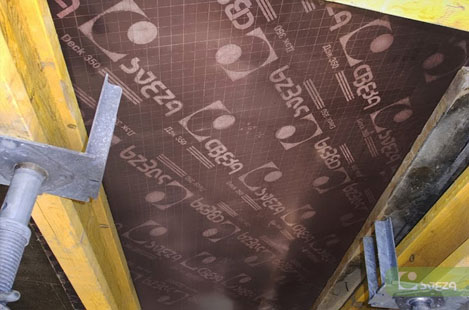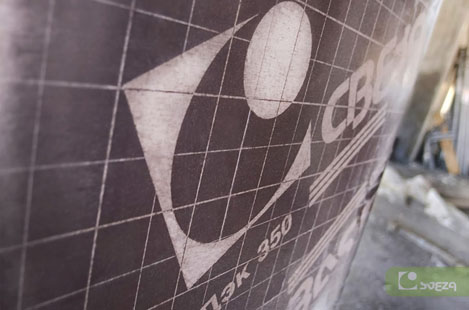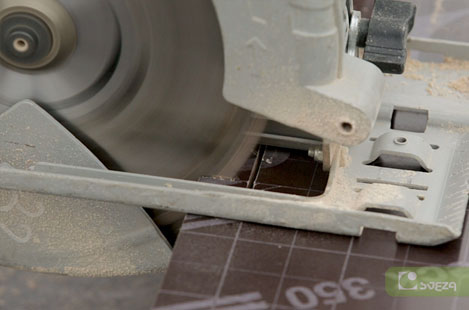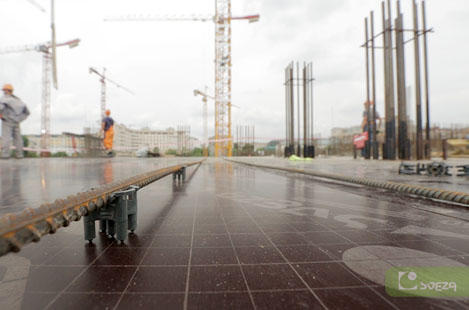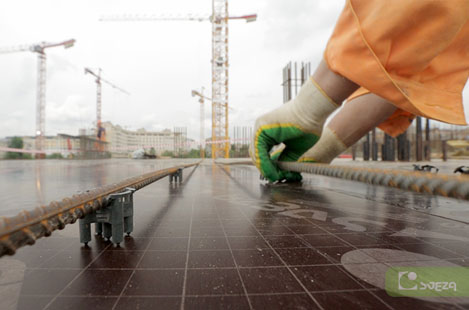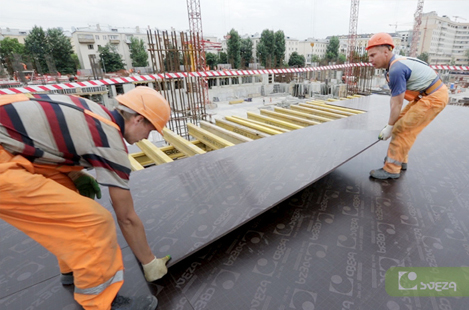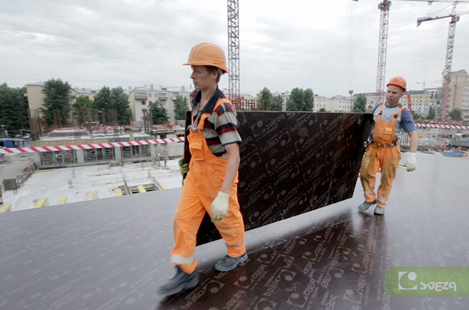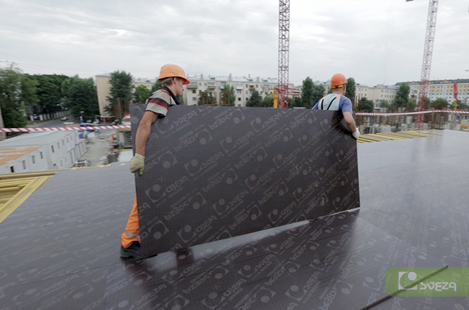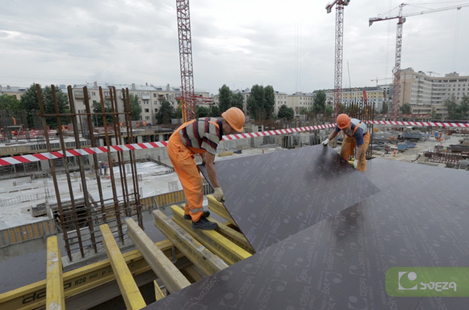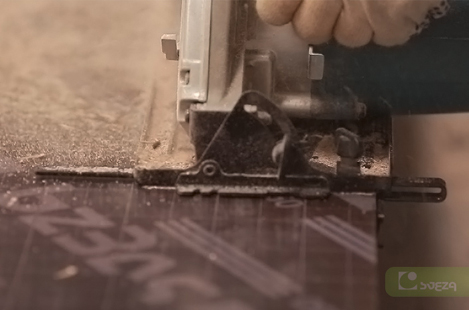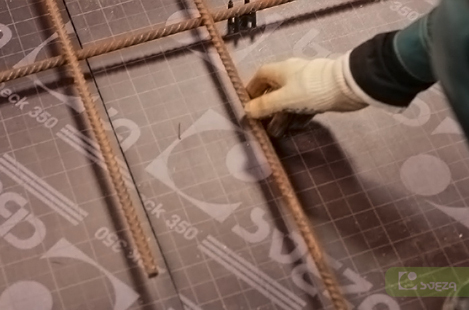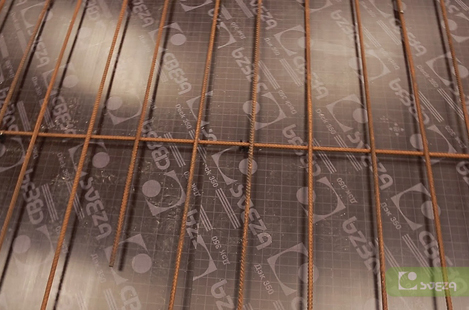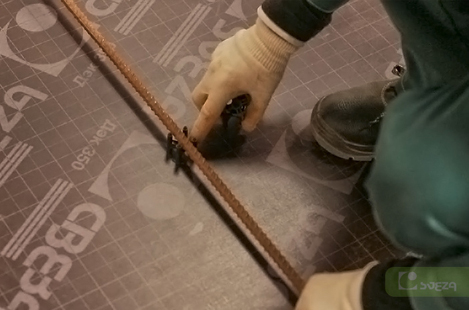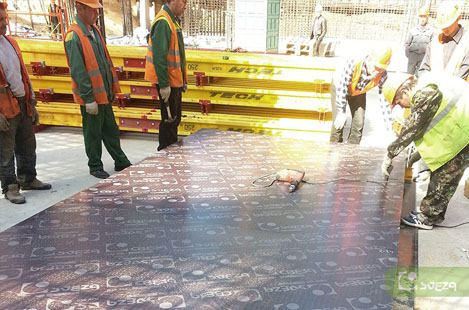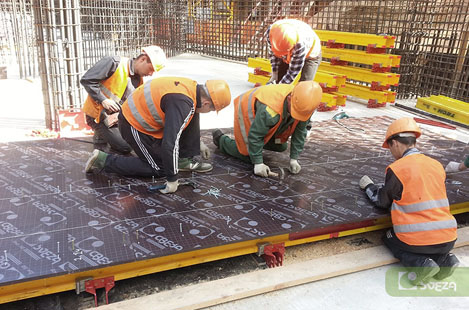 Deck 350 Birchply™ is a special film faced plywood with a grid pattern intended for deck formwork. It comes with 25, 50, and 100 mm grid patterns. This simplifies plywood laying-out and cutting, and reduces labor costs at the construction site. The pattern also can be used as the template for rebar placement.
Deck 350 Birchply™ edges are coated with special acrylate-based waterborne Finnish-made paint with low water permeability. Deck 350 Birchply™ surface is smooth, and coated with German-made wear resistant material (wearing capacity is 350 Taber test rotations).
Deck 350 Birchply™ Film face Birch Plywood is ultimate in Plywood having excellent physical and mechanical properties. The rigid laminated surface not only prevents moisture absorption but also ensures excellent abrasion resistance in aggressive conditions and smooth finish to concrete formwork.
Deck 350 Birchply™ Birch Plywood has been designed to suit any and every application needs of construction industry where durability, versatility, high bending strength, rigidity, stability, accuracy and tolerance to humidity parameters of performance value are critical.
Patented Technology:
* Production process for plywood with a grid pattern is patented (registered in the National Register of Utility Models of the Russian Federation as of 20.01.15, RF Patent number 150519).
Key Benefits
Fair finish concrete surface

Highly wear resistant,

Free from delaminations risks,

No need for secondary putty repairs of concreted surface

Resistant to most aggressive environments, including chemicals

Higher water resistance, boiling waterproof

Durable and Hard surface

Resistance to temperature variation: through a range of -40°C to +50°C (-40°F to +122°F), comes in a variety of thicknesses and sizes.
Certifications
PEFC certified products are also available under the chain of custody programs on prior arrangement
Properties
Waterproof, dimensionally accurate & stable.

Strong and light

Meets EUTR standards,

Meets European E1 formaldehyde emission requirements (EN 120:1992) and also California ARB regulation P2
Veneers
100% natural whole piece or spliced Birch Veneers of 1.4mm thickness throughout the plywood without any gaps or open splits or joints.

Bonding
Phenolic resin cross-bonded weather resistant gluing according to EN 314-2 class 3 exterior.

Availability options:
Deck 350 Birchply™ Film face Birch Plywood is made in a range of thickness from 9mm to 40mm.

However, the commonly available Ex-Stock thickness is

12mm x 9 ply in 120 GSM
18mm x 13 ply in 120 GSM
Technical Specifications
Thickness, mm
9, 12, 18, 21
Surface type
Smooth (F/F)
Water resistance
Boiling Water Proof
Density, kg/m3
640-700
Moisture content, %
5-14
Produced under STO 00255177-002-2014 Film faced birch plywood.
Strength Specifications
Dimension

Value

Ultimate static bending strength, min MPa
along the grain
of face veneers

60

against the grain
of face veneers

30

Static bending elasticity modulus, min MPa
along the grain

6000

across the grain

3000
| | |
| --- | --- |
| Parameters | Values |
| Density kg/cubic meter | 640-700 |
| Moisture Content % | 8-10 |
| Minimum Ultimate strength MPa | |
| Shear along the glue layer | 1.5 |
| Static bending along the grain (Outer layer) | 25 |
| Tension along the grain | 30 |
| Minimum elastic module, MPa | 7000 |
Effect of humidity and moisture
Wood veneer is a living material and is subject to moisture movement according to surrounding conditions, which affects the flatness of panels. It is important to condition the panels to reach a moisture content near to the equilibrium of their permanent environment.


Like other wood-based panel products, Birch Plywood is also hygroscopic and its dimensions change in response to a change in humidity. A change of 1% in moisture content typically increases or decreases the length, width and thickness by 1% in dimensions and thickness. It is therefore desired that the edges are sealed with a suitable acrylic paint to prevent and/or control ingress of moisture and humidity and consequent swell in thickness and expansion in dimensions.


The recommended stocking conditions are 20°C and a RH of air of about 60%.
Storage conditions:
The recommended stocking conditions are 20°C and a RH of air of about 60%.
Disclaimer:
Eximcorp India Pvt Ltd, does not assume any responsibility or admits any liability whatsoever for the number of uses or re-uses or repetitions or damages to the sheets or concrete surface quality for reasons not attributable to manufacturing defects or for several other factors affecting the performance of the product. In the event of any occasional delamination in excess of the AQL (Acceptance Quality Level) of 3% established by the trade practices and also so declared by the seller hereby, the replacement of delaminated sheets or the surface area so observed shall me made expeditiously by the Seller or refund of value thereof as soon as possible without any further or other consequential or other losses.

Related Documents
Related knowledge documents :


US Lacey Act - Declaration Form


FAQ- The US Lacey Act


EPA Wood Composite FAQ


US EPA formaldehyde-emission-standard


EPA-EPA-950-F-17-001